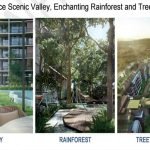 Daintree Residence Showflat is a high-end condominium located on Toh Tuck Road in District 21 by SP Setia International (Singapore) Pte Ltd. The project has a 99-year leasehold. The condo is expected to yield about 325 units. The development is carefully related to numerous MRT stations throughout like King Albert Park MRT, Beauty World MRT Station which connect residents to different part of Singapore. Trip to Newton or Orchard Shopping belt is just few minutes away.
The area of Bukit Timah is known to contain many elite schools that provide prime educational opportunities for children and families living nearby. These include primary and secondary schools, as well as tertiary institutions and other international schools.
Some of the highly-praised primary schools located close to the Daintree Residence condo include:
Bukit Timah Primary School,
Methodist Girls' School, and
Nanyang Primary School.
Secondary and tertiary institutions include
Hwa Chong Institution,
Nanyang Girls' High School,
National Junior College,
Ngee Ann Polytechnic, and
Singapore University of Social Sciences.
Furthermore, the area contains many international institutions, including
DIMENSIONS International College,
German European School,
Singapore Korean International School, and
Swiss School in Singapore.
The community thrives on diversity, but more importantly, top-notch education for the young minds of Singapore's future. The prime educational opportunities located within close proximity to the Daintree Residence new condo will provide particular benefit to families residing within the luxury residence.
Daintree Residence Site Plan